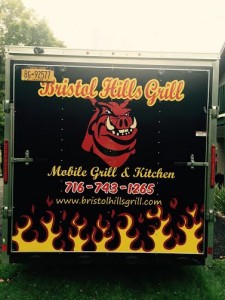 At Bristol Hills Grill, we offer on-site cooking with our mobile kitchen and grill … as well as drop – off catering.
Our specialties are BBQ chicken, jumbo chicken wings, baby back ribs and pulled pork with our homemade marinate/rubs served with our homemade "magic" sauce (sweet with just enough spice!), also we offer Italian sausage with peppers & onions and a variety of delicious sides.
We cater graduation parties, family reunions, birthday parties, weddings, business functions or any special occasion.
We also sell roadside and festivals/fairs, our dates will be posted on our facebook page.
Contact us … call/text 716-743-1265 or email ([email protected]) and we will cook for you.