Our master chef Carl Davis has spent many years trying to perfect chicken, and pulled pork … in the year 2015, he has done it, and is ready to spread the joy across all customers.  Little history about owners of Bristol Hills Grill: Carl Davis attended culinary school years ago, but never had the opportunity to start a restaurant of his own.   He grew up in the restaurant atmosphere and learned from his father, Ray Davis, who was co-owner of the Orange Inn in Naples and Davis Restaurant in Bath, NY.   Carl has been employed at Constellation Brands for the last 29 years.  Currently he works closely with the Rabbi making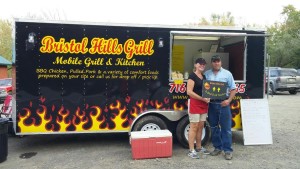 Manischewitz wine.      His business & life partner, Dawn Marie Bell, has worked for Carborundum & Saint-Gobain for the past 28 years.  Her background is business management with customer service and inventory control/planning experience.  Dawn has always wanted to own her own business, but same as Carl, never had the opportunity in life … until now.     Both are always cooking in their own kitchen, with four children, friends and extended family, something is always on the stove for their enjoyment.   They hope to share their homemade receipes with you.
Bristol Hills Grill is a home-based catering business originated in Naples, NY and is pleased to serve your catering needs.
Meats available:  Superb BBQ Chicken, Mouth Watering Pulled Pork Sandwiches & Nachos, Ribs, BBQ rubbed smoked Jumbo chicken wing and Italian sausage with peppers/onions.         Sides available: Garlic/Salt Potatoes, Smoky Baked Beans, Coleslaw,  Apple slaw w/ honey mustard vinaigrette, Broccoli Slaw, Rich mac 'n cheese, Bruschetta couscous salad (hot dish), Dilled cucumber/tomato salad,  rolls/corn bread.   Seasonal: corn on cob, salads with seasonal fruits.          
We are always willing to try new receipes for side dishes … let us know if there is something specific you would like served for your event.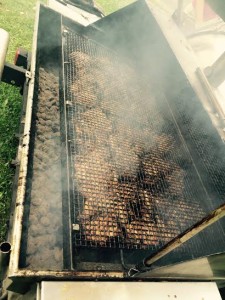 If would be our pleasure to serve you and your guests.  Call/text 716-743-1265 or email [email protected]